CV Summit 2021 (Day 2)— Key Takeaways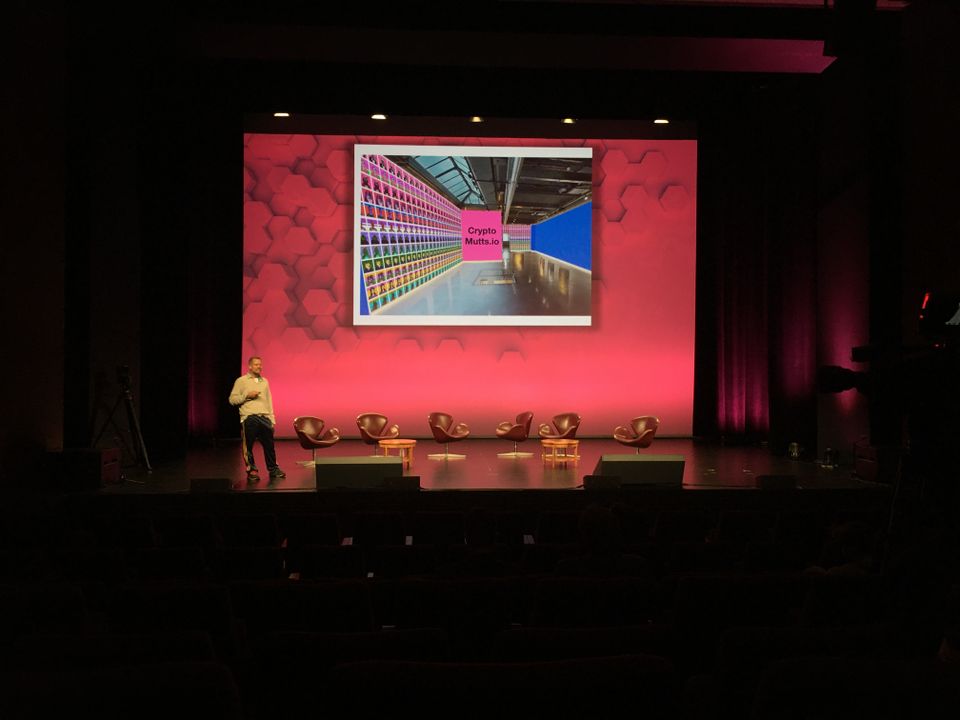 Last week, between 30th August— 1 September took place CV Summit Leadership Circles 2021, at the heart of Crypto Valley, Zug, Switzerland. The 3-day event was hosted by CV VC and CV Labs, and the moderator was Dan Ram, global MC, and TEDx speaker. The event gathered investors, high-profile individuals, founders, key-decision makers, and corporates. During the 3 days, they examined together how the present and future applications of blockchain technology can help optimize and evolve businesses, improve healthcare, modernize governmental institutions, and support art, culture, and sports.
Over the 3 days, the event gathered 105 speakers, 750+ attendees, and 5300+ online viewers. For those that could not attend, there is a full live stream for each day on YouTube:
Day 1 — CV Digital Assets and Investors Circle
Day 2 — CV Culture and Impact Leaders Circle
Day 3 — CV Blockchain Adoption in the Corporate World
Day 2 — CV Culture and Impact Leaders Circle
The second day started with a speech delivered by the mayor of Zug, dr. Karl Kobelt where he emphasized that Zug was the first city in the world to accept cryptocurrencies for tax payments since 2016. The next talk was by Bernhard Blaha, CEO of Blocktrade, on how mass adoption of digital assets affects their quality. The main takeaway was that mass adoption increases awareness and implicitly quality since there are higher chances of quality assets. Next, on the stage was Daniel Ritchie — NFT Commercial Lead, Bull Racing Honda F1Team, talking about how tokenization can be applied to ticketing, licensing, as well as to continue the development in culture, and to increase fan impact, and content generation for sports.
The first panel of the day, moderated by Jennifer Arman- Head of Marketing & Communications at Inacta was around NFTs & Sports. Hubertus Thonhauser - Charman at Tezos, Toli Makris- CEO at EX Sport, Niclas Genovese- Offering Development at Tokengate, and Daniel Ritchie discussed how the use of NFTs for sports benefits both the blockchain industry and the sports industry, exchanging fan bases. However, probably one of the biggest challenges with NFTs and sports consists in understanding who owns the IP (is it the player, the federation, the organizer?). Another conclusion of the talk was that NFTs push blockchain technology closer to mass adoption.
Next on stage was Joe Petrowski- Technical Integrations Lead at Web3 Foundation. He offered a very insightful presentation on multi-chain Web3 applications, the challenges of using multi-chain applications, and how parachains work on the Polkadot blockchain.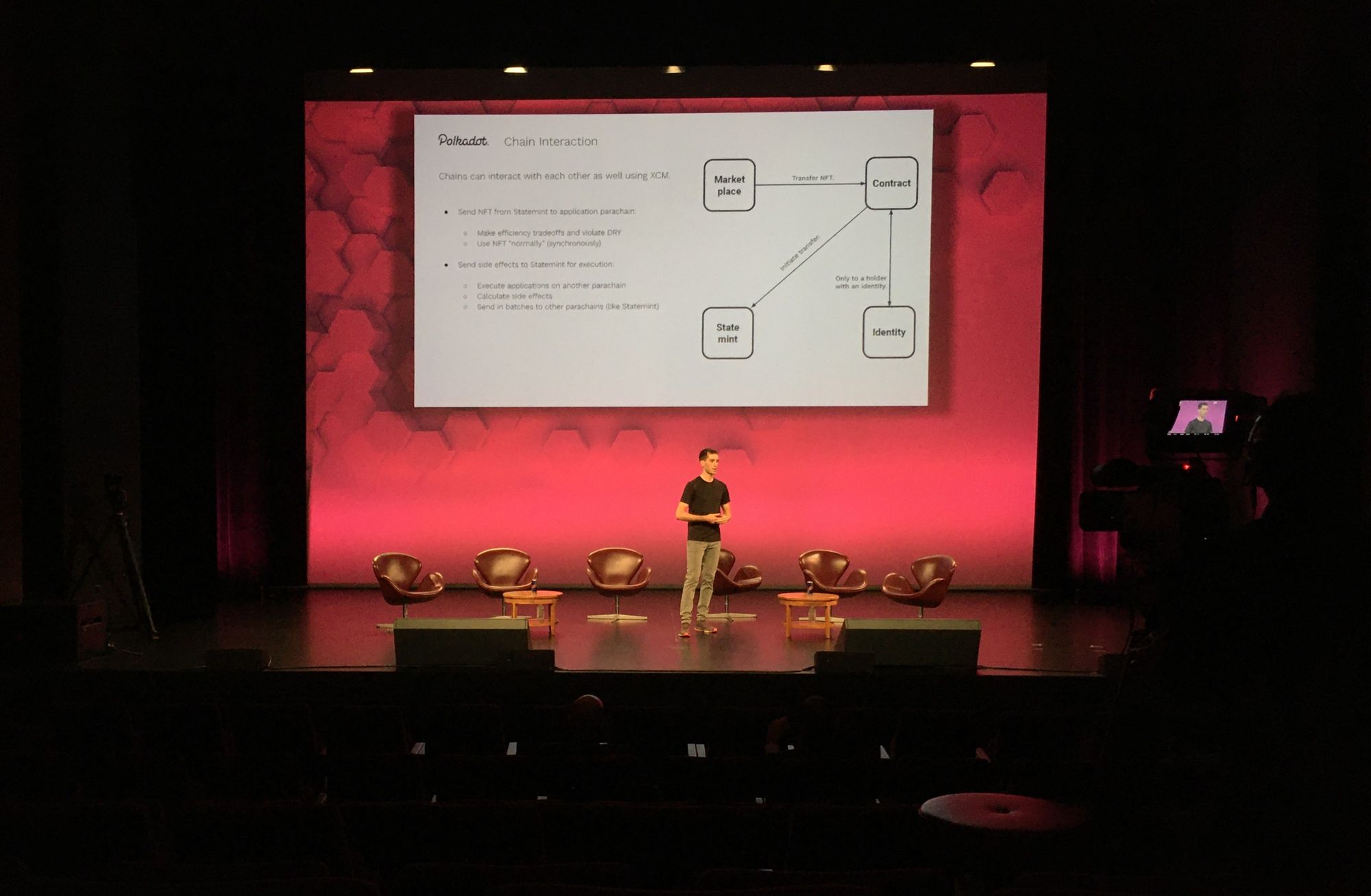 Then, Sam Katiela- CEO & Founder at MAMEMO Consulting talked about the human factor in blockchain as a global megatrend. He emphasized that there is a need for joint efforts from ambassadors, content creators, and authorities to enable the communities to take advantage of blockchain technology and that each of us can contribute.
The second panel was about blockchain on the African continent. Tracy Trachsler — Co-Head at CV Labs, Gideon Greaves — Managing Director for Africa at CV VC, Rico Pang — Co-Founder & CEO at SANCTUM, and Gisela Roth — State Secretariat for Economic Affairs at State Secretariat for Economic Affairs (SECO) discussed the positive effects that blockchain technology can have for the African continent. South Africa, Ghana, Nigeria, Congo, and Kenya were mentioned as putting efforts into embracing blockchain technology to fix some of the challenges they experience, such as having a large amount of the population unbanked. Another idea was about creating initiatives to encourage education for Africa's young population, especially for coding.
After a break for networking, Kenny Schachter — artist, writer, and lecturer started the second part of the day with a very energetic presentation on "NFTs: Post Pump and Dump Baby-ism". He showcased some of his work in the space, such as a video of him eating tulips, to make a statement that it's not Tulip Mania when it comes to NFTs: "There's something punk about NFTs creating a whole new monetary system in the art world". His message for everyone was that "NFTs are not a bubble", but a catapult for art. He then joined Sarah Schlagenhauf — CEO & Founder at ArtDeal AG, Tanya König — Moderator at Swizz Art Bizz, Roger Darin — Head Digital Finance at Inacta, Jutta Nixdorf — Managing Director Senior Specialist Post-War & Contemporary Art Christie's, and Dino Lewkowicz — Director at 4ARTechnologies, for a panel discussion about the evolution of art market in the digital age. Some interesting views were the use of tokenization as a means for investors to diversify their portfolio, and the use of NFTs as a Patreon model for creators. Also, the panel agreed that "the urge to collect digital art" is no more different than the urge to collect regular art. Another interesting idea was that as NFTs become more popular, there is a need for better hardware devices to display this type of art. Jutta Nixdorf pointed out that when it comes to NFTs, there is a 24/7 market, so people do not have to be at the same place anymore for an auction. A clear example was Christie's Beeple auction where 22 million people watched it.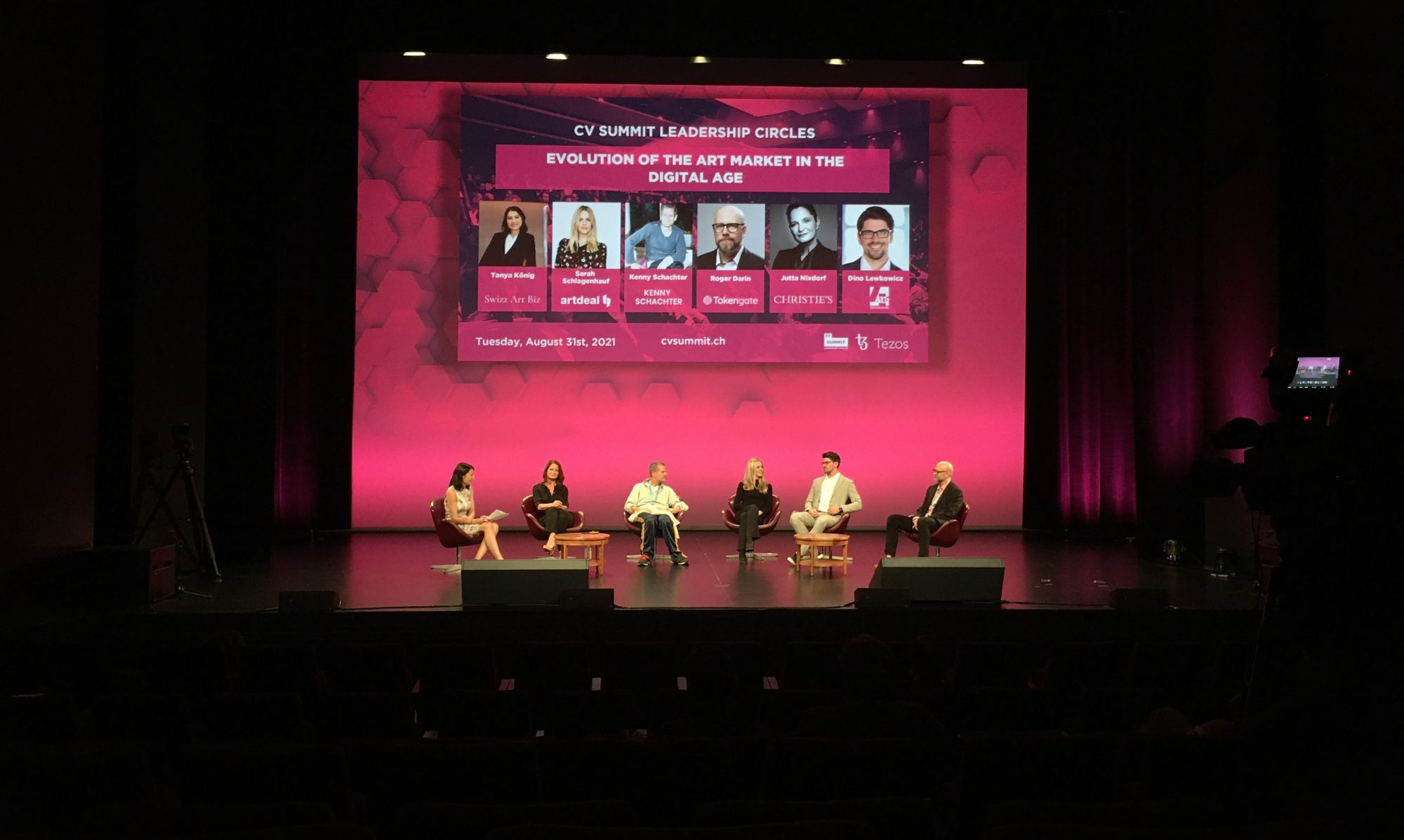 The next talk by Markku Mäkeläinen — Chief Executive Officer at Utopia Music was about the revolution in the music industry. He presented how Utopia Music aims to deliver "Fair pay for every play", by monitoring global music consumption in real-time, allowing reporting in depth.
For the next talk, Sam Katiela joined Markku Mäkeläinen on the stage for a fireside chat about how blockchain technology will revolutionize the music industry, enabling artists to access the royalties they deserve.
Stefan Kanalga — Founder & CEO at Yeswetrust was next on stage where he presented the use of gamification for personal growth offered by Yeswetrust. He was then joined by Michael Gord — CEO at GDA Capital, Alan Laubsch — CEO at Generation Blue, Shirly Valge — COO at Velas Network, Simon Telian — Managing Director Advanced Blockchain AG, and Jan Bruch — CEO Neumorgen for the last panel discussion of the day, about the transformation of humanity and economy with social tech. Some key takeaways:
internet access as a human right, such is the case in Estonia and Finland
everything compounds, including education, which creates an economic gap between countries with decades of education vs countries without it
the world needs to create conscious social media
technology should be intuitive and humanity should lead technology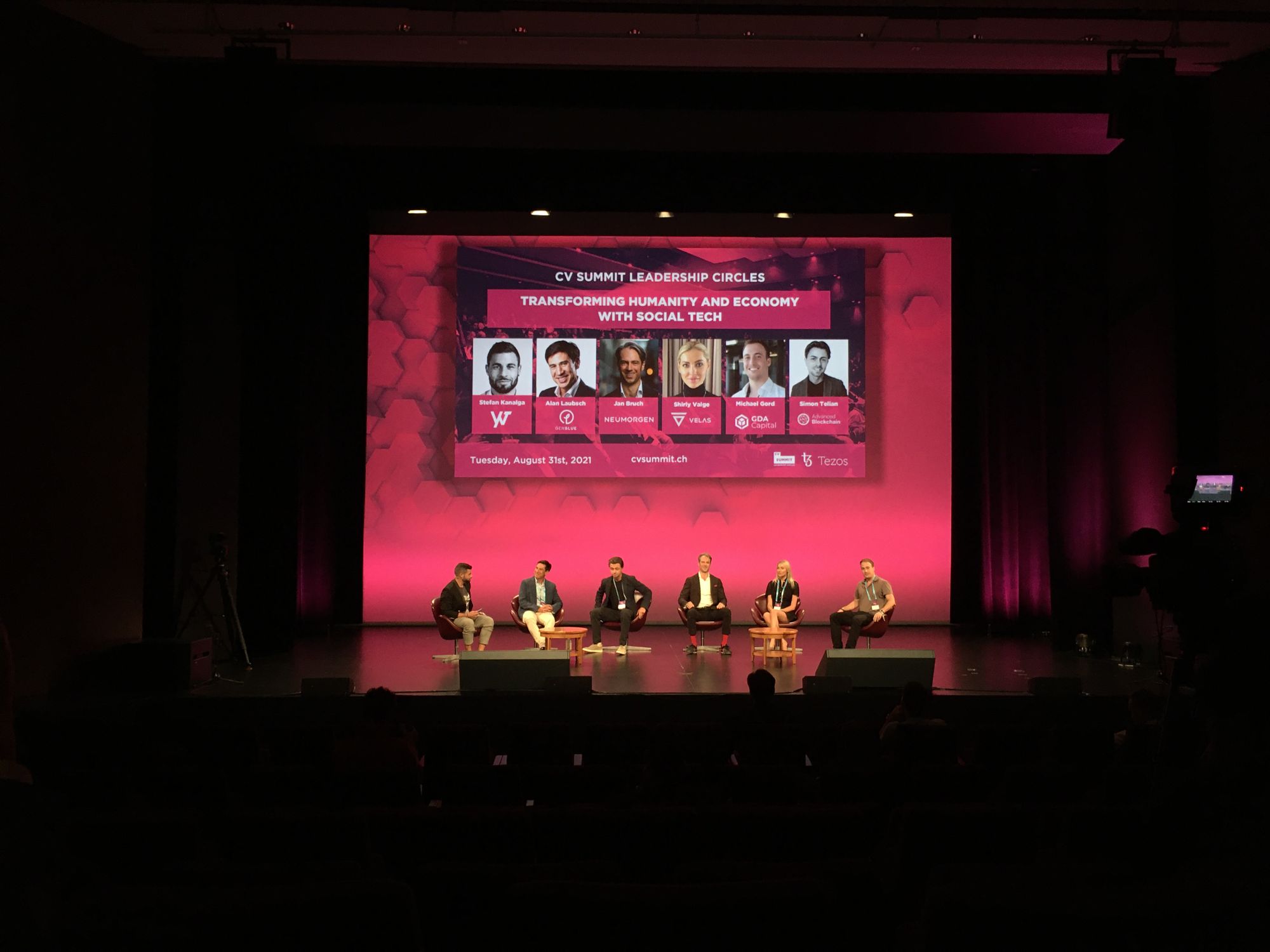 The last talk of the day was about the impact of Bitcoin on El Salvador and other underdeveloped countries. Carlos Fernandez — PARTNER AT FINKA.SWISS and Dunstan Teo — Co-Founder & President of SANCTUM spread some ideas worth remembering:
DEFI has the potential to create financial sovereignty, for the first time people decide how much they land, when, where, and at which rates
El Salvador created a $150 million fund to facilitate conversions from Bitcoin to US dollars as a measure against volatility when they announced Bitcoin as legal tender
Bitcoin enables a cheap and fast way to send money across borders
The day ended with a networking apéro, a great opportunity for networking and exchanging ideas.
P.S.: My ticket to the conference was sponsored by the DTL Talents, an 18-week mentoring program to empower female talent for leadership in the blockchain space. If this borders like something you would like to experience as well, go and APPLY. The 3rd cohort starts on the 4th October 2021 and is completely FREE.
If you are new to the blockchain space and you would like to learn more about it, I might have the perfect program for you, Unit Master's Program, a free 6 week Master's Program to ready you for the future economy. The next cohort starts on the 19th of September 2021.
P.S If you are already in the blockchain ecosystem and you would like to launch your start-up into this space, then CV Labs Incubation Program might be what you are looking for.